Notable Saints in the Diocese of Gallup
Sacred Heart of Jesus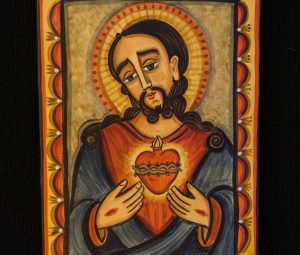 The Sacred Heart of Jesus represents Christ in all His glorious divinity. It reminds us of the endless love and devotion Christ displays toward humanity, and acts as a comfort and devotion to those seeking reparation.
The Sacred Heart belongs to the person of Jesus, and is therefore worthy of adoration. In 1794, in his Papal Bull entitled "Auctorem Fidei", Pope Pius VI effectively declared that devotion to the Sacred Heart, especially when seeking forgiveness for sins, is a worthy and laudable endeavor.
In the Diocese of Gallup, our Cathedral in Gallup, NM is named for the Sacred Heart, as is a parish in Farmington, NM.
Our Lady of Guadalupe
The Virgin of Guadalupe appeared to St. Juan Diego on December 9, 1531 as he was walking from his village to Mexico City. She asked that a church be built on that site, and miraculously presented non-native roses as a sign of her authenticity. In 1999, Pope John Paul II named her as the official patronness of the Americas.
In the Diocese of Gallup, Our Lady of Guadalupe is revered as a patron, and has a special place with the large number of peoples with Hispanic backgrounds throughout the Diocese. There are two churches named after her, one in Holbrook, AZ, and the other in Kayenta, AZ.
St. Kateri Tekakwitha (1656-1680)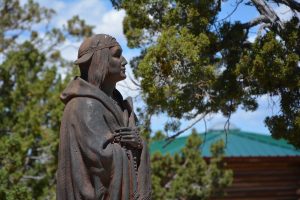 St. Kateri Tekakwitha was a member of the Algonquin-Mohawk tribes in 17th century New York State. During her lifetime, she was knoen for her intense devotion to Christ and her Catholic faith, as well as perseverance in the face of suffering. In 2012, she was canonized by Pope Benedict XVI, becoming the first female Native American Saint.
The people of the Diocese of Gallup have a special devotion to St. Kateri. There are numerous Native American tribes and peoples spread throughout the Diocese, and all look up to St. Kateri in a special way as a model and a patron.
Other Notables
Venerable Pope Pius XII
In 1936, Cardinal Pacelli – the man who would eventually become Pope Pius XII – visited the Southwest United States, including what was to become the Diocese of Gallup. He noticed that the Diocese of Santa Fe was quite huge, and was concerned with how the needs of the faithful, spread across such a large expanse, could be met.
In 1939, after being elected Pope, he issued a decree which formally erected the Diocese of Gallup, establishing Sacred Heart Church as the Cathedral and the city of Gallup as the official See.
St. Katharine Drexel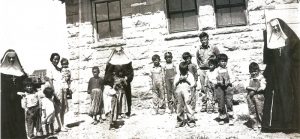 St. Katharine Drexel was an influential figure in the establishment of Catholic schools in America, and chose to focus specifically on the education of the poor and minorities. She founded the first Catholic school for Native American children in 1894 in Santa Fe, and also helped to open St. Michael's school in the Diocese of Gallup in St. Michael's, AZ.
Blessed Stanley Rother
Fr. Rother exemplified selfless service to Indigenous Communities, living with the Tz'utujil people of Guatemala in the 1960s, 1970s and 1980s. The Archdiocese of Oklahoma City, which has taken up Fr. Rother's cause for canonization, notes that Fr. Rother "ministered to his parishioners in their homes; eating with them, visiting the sick and aiding them with medical issues. He even put his farming skills to use by helping them in the fields, bringing in different crops, and building an irrigation system."
Even when a Civil War threatened his people and his own life, Fr. Rother refused to abandon his parishioners, and was killed by three unknown militants who resented his dedication to his ministry. In 2016, he was officially recognized by Pope Francis as a martyr for the faith – the first from the United States.
Nicholas Black Elk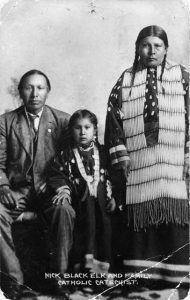 "Nicholas W. Black Elk, Sr., was born into the Oglala Lakota Tribe in 1863 in Wyoming. The fourth generation to be named Black Elk,he was third in succeeding his father and grandfather as a prominent medicine man. In 1885, he learned about St. Kateri Tekakwitha and signed the petition supporting the cause of her canonization. In 1904, he met a Jesuit priest who invited him to study Christianity at Holy Rosary Mission near Pine Ridge, SD. On December 6, on the Feast of St. Nicholas, he was baptized Nicolas William. In 1907, the Jesuits appointed him a catechist because of his love for Christ, his enthusiasm and his excellent memory for learning scripture and Church teachings. During the second half of his life, he traveled widely to various reservations, preaching, sharing stories, and teaching the Catholic faith. He is attributed to having 400 Native American people baptized."
Padre Kino
"Born in 1645 in the Tyrol region of northern Italy and ordained in 1677, Kino was sent to Mexico, arriving in 1681. While there, Kino made numerous journeys through what is now the Sonora region of Mexico, and the states of Arizona and California.
"Participating in more than 50 expeditions through northern Mexico to the southwestern United States, he is credited with baptizing more than 4,000 people, and covering more than 50,000 square miles by horse while announcing the Gospel and mapping the Pimería Alta territory of modern Arizona.
"The Jesuit was also a noted defender of the rights and dignity of the indigenous people, strongly opposing the Spanish conscription of the local Sonoran Indians to work in silver mines. He died in 1711, aged 65, having fallen ill during a Mass to dedicate the church of St. Francis Xavier in present day Magdalena de Kino, in Sonora, Mexico, where his shrine is a national monument."
St. Joseph
On March 19, 2020, Bishop Wall consecrated the Diocese of Gallup to the protection of St. Joseph, asking for the saint's intercession as the world and nation grappled with the Covid-19 pandemic.