Notable Saints in the Diocese of Gallup
Sacred Heart of Jesus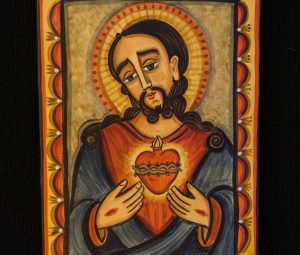 The Sacred Heart of Jesus represents Christ in all His glorious divinity. It reminds us of the endless love and devotion Christ displays toward humanity, and acts as a comfort and devotion to those seeking reparation.
The Sacred Heart belongs to the person of Jesus, and is therefore worthy of adoration. In 1794, in his Papal Bull entitled "Auctorem Fidei", Pope Pius VI effectively declared that devotion to the Sacred Heart, especially when seeking forgiveness for sins, is a worthy and laudable endeavor.
In the Diocese of Gallup, our Cathedral in Gallup, NM is named for the Sacred Heart, as is a parish in Farmington, NM.
Our Lady of Guadalupe
The Virgin of Guadalupe appeared to St. Juan Diego on December 9, 1531 as he was walking from his village to Mexico City. She asked that a church be built on that site, and miraculously presented non-native roses as a sign of her authenticity. In 1999, Pope John Paul II named her as the official patronness of the Americas.
In the Diocese of Gallup, Our Lady of Guadalupe is revered as a patron, and has a special place with the large number of peoples with Hispanic backgrounds throughout the Diocese. There are two churches named after her, one in Holbrook, AZ, and the other in Kayenta, AZ.
St. Kateri Tekakwitha (1656-1680)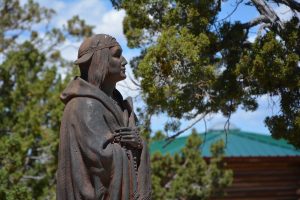 St. Kateri Tekakwitha was a member of the Algonquin-Mohawk tribes in 17th century New York State. During her lifetime, she was knoen for her intense devotion to Christ and her Catholic faith, as well as perseverance in the face of suffering. In 2012, she was canonized by Pope Benedict XVI, becoming the first female Native American Saint.
The people of the Diocese of Gallup have a special devotion to St. Kateri. There are numerous Native American tribes and peoples spread throughout the Diocese, and all look up to St. Kateri in a special way as a model and a patron.
Other Notables
Venerable Pope Pius XII
In 1936, Cardinal Pacelli – the man who would eventually become Pope Pius XII – visited the Southwest United States, including what was to become the Diocese of Gallup. He noticed that the Diocese of Santa Fe was quite huge, and was concerned with how the needs of the faithful, spread across such a large expanse, could be met.
In 1939, after being elected Pope, he issued a decree which formally erected the Diocese of Gallup, establishing Sacred Heart Church as the Cathedral and the city of Gallup as the official See.
St. Katharine Drexel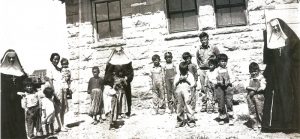 St. Katharine Drexel was an influential figure in the establishment of Catholic schools in America, and chose to focus specifically on the education of the poor and minorities. She founded the first Catholic school for Native American children in 1894 in Santa Fe, and also helped to open St. Michael's school in the Diocese of Gallup in St. Michael's, AZ.